The Central Ontario Orchid Society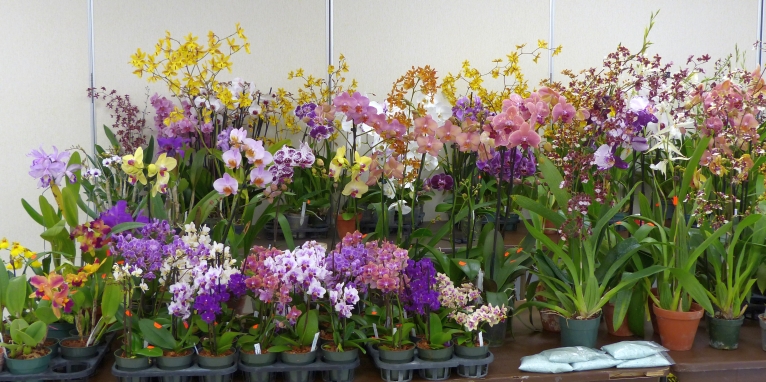 ---
---

Join COOS
Membership in COOS will give you the opportunity to socialize with other orchid enthusiasts while you learn more of the beauty, culture and history of orchids. There are programs for beginners as well as for the more experienced orchid grower. We invite you to attend a meeting as a guest and see for yourself the excitement that orchids generate.
Membership fees cover the period from January through December. The fee is $20 for an individual or a family. A student membership is $5 per year.
To join the society or renew your membership please fill in the form - Membership Application/Renewal and either bring it to a meeting or mail it with your fee to the address supplied.
For more information, contact anyone listed on the COOS Executive below.
Meetings
The society holds meetings ten months of the year in Kitchener as detailed under Program.
At our meetings, we have a regular programme of guest speakers, slide shows, and demonstrations. There are also sales of orchid plants and orchid potting supplies, a raffle table, a show table of member's plants, and refreshments. The Society maintains a borrowing library of orchid related literature for use by the members.
The meetings provide an opportunity to tap the wealth of experience represented by our more experienced members. We also have a few social events each year, including the annual potluck Christmas party.
Conservation
In Ontario we have over 60 native orchid species, the lady slippers being the most showy. Please enjoy them where they are. Do not pick the flowers and, above all, do not try to transplant them. The native orchids are very sensitive to their habitat and depend on a variety of fungus for their growth. They do not survive transplanting for very long. Look, admire, but don't touch or trample.
Orchid Shows
The major event of the year is our annual orchid show and sale to be held the last weekend of September. The COOS Show Committee starts planning early for a show venue, advertising, sales and judging. Other orchid societies and vendors are invited to put up an orchid display.
Our society reciprocates with other orchid societies in the area by putting on a display at each of their annual shows.
By participating in the shows one has the opportunity to meet other orchid enthusiasts, growers, vendors and judges. You could enjoy the thrill of winning an award for your favorite orchid. The flowers in the show are ribbon judged to award the best flowers in the show in each class. They are also examined by judges of the American Orchid Society to award the best flowers in the class to be seen so far.
For a schedule of orchid shows select here.
Orchid Judging
Orchids presented in displays at an orchid show are usually both ribbon judged and AOS judged. Orchids are ribbon judged against other orchids in that show in classes defined by a judging class schedule. (Usually based on the The Mid-America Orchid Congress schedule.) Plants with outstanding flowers will be AOS judged against standards for that kind of flower and any previous awards.
There are times when one would like a flower judged outside of a show. You can take your plant to the Toronto Judging Centre. The Toronto Judging Centre monthly judgings are open to all orchid growers. You need not be a member of AOS or SOOS. You can bring your plants to the Civic Garden Centre before one o'clock on the designated Saturday of each month. Plants are judged for AOS awards in accordance with the Handbook on Judging and Exhibition. If your plant is awarded, there is a charge by the AOS (about $50.00 US). Non payment forfeits the right to future judging. The Centre welcomes interested persons to come and observe the judging. There are opportunities to assist in plant research and administrative chores.
-> Top
---
COOS Orchid Show
You have seen plenty of Phalaenopsis orchids for sale in the grocery stores but did you know that there are thousands of other kinds of orchids? They come in size from something a mosquito would love to the size of a small tree. At the orchid show you will see many of these beautiful orchids arranged in colorful displays. Come to the show. Bring a camera. Learn more about care of orchids. Perhaps buy one for yourself or a friend.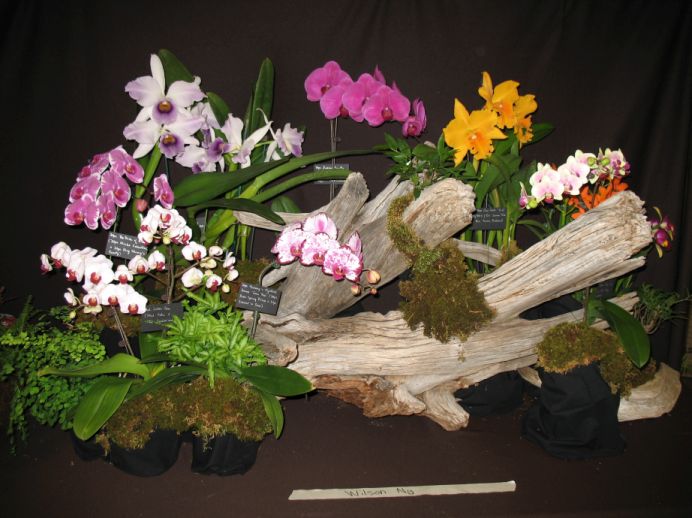 The COOS Orchid Show and Sale
Unfortunately due to the virus our show has been cancelled for this year.
AOS Awards Received at the 2019 Show
Catasetum Tom Pickens 'B-C' AM/AOS 82points Bernie Butts and Chuck Lefaive
WOS display 'Fall Colours' AOS Show Trophy, Silver Certificate 85 points, Windsor Orchid Society
Phalaenopsis deliciosa ssp deliciosa 'Ketracal-white' CHM/AOS, Drew Goddard
Paphiopedilum helenae 'Our Tropics Butterscotch' HCC/AOS 79points, Terry and Doug Kennedy
Barbosella cogniauxiana 'Ariete Acazar Biljan' CCM/AOS 80points, Angele Biljan
To see some images from the 2019 show, please go to our Facebook site.
-> Top
---
Meeting Program for 2020
Meetings are held in the basement hall of St. Joseph's Church at the corner of Courtland and Madison in Kitchener on the fourth Monday (unless pre-empted, see the program dates below).
Meetings begin promptly at 7:00pm; arrive from 6:30pm for social time and sales. Parking is at the rear of the school; the entrances are off Madison or Cedar. Guests are welcome.
Meeting dates are listed below with the programme, usually a guest speaker or slide show.
| | |
| --- | --- |
| January 27 | Spencer Hauck will be talking about his lighting and other set-ups that he uses for his plants and also will review some of the more common orchid pests and how to get rid of them. Election of Officers. |
| February 24 | Join us for a repotting workshop given by Gerhard. Bring a plant or two that needs help, dividing or repotting. |
| March 23 | Meeting CANCELLED due to virus. |
| April 27 | Meeting CANCELLED due to virus. |
| May 25 | Meeting CANCELLED due to virus. |
| June 22 | Meeting CANCELLED due to virus. |
| September 14 | Note: This is the second Monday, not the fourth Monday. First meeting of the new season. Dan Doucette will talk about his adventures. |
| October 26 | TBA |
| November 23 | Our Christmas party, games (bring small gift to $10) and pot luck dinner, silent auction. Bring plants for the silent auction. |
| December | No meeting. |
-> Top
---
The COOS Newsletter
Our newsletter comes out a week before each meeting to notify members of upcoming meetings, orchid shows and other club events. We also have articles on orchid culture, conservation, and other issues of interest to members.
The newsletter requires that you have the
Adobe Reader
installed.
-> Top
---
The COOS Executive
For general inquiries contact: .
For inquiries regarding the COOS show: .
Please address Society mail to: COOS, 41 Woodside Rd., Guelph ON N1G 2H1
President:
Sowmya Johnson, sowmya33@gmail.com
Vice President:
Don Ingram, 519-824-6095, doningram792@msn.com
Treasurer:
Cathy Ralston, 519-763-4260,
Secretary:
Kathleen Sary,
Past President
Nancy Fieder, 519-658-5062, fieder@xplornet.ca
COOS Display Coordinator:
Ed Ratcliffe, 519-669-2542, edandsharon_96@sympatico.ca
Contact Ed about having a COOS display at your show.
Show Chair:
Nelson Zabel, coosshowchair@gmail.com
Contact the show chair about the COOS show in September
Newsletter Editor:
Cathy Ralston, 519-763-4260, coosinfo@gmail.com
Emporium:
Ed Ratcliffe, 519-669-2542, edandsharon_96@sympatico.ca
Hospitality:
Nancy Fieder, 519-658-5062, fieder@xplornet.ca
Library:
Chuck Lefaive, 519-208-4836, chuck.lefaive@rogers.com
Membership:
Rob Vanderheyden

Program:
Rafaella Nascimento, raffa.nascimento1@gmail.com

AOS/MAOC/COC Rep:
Jerry Bolce, 519-885-1888, jerry@uwaterloo.ca
Webmaster:
Jerry Bolce, 519-885-1888, jerry@uwaterloo.ca
-> Top
---
Culture
Orchids form a very diverse family with a wide range of cultural requirements. Some orchids are grown very easily on a windowsill and some require great skill to match their needs. An orchid society is the place to meet other growers and get the advice to grow and bloom that special plant.
A good site for the basics on growing orchids: Orchid Growing for Beginners: The Definitive Guide
Here are a few Youtube videos to get you started.
-> Top
---
Links
COOS is a member of
The Canadian Orchid Congress maintains lists
The Central Ontario Orchid Society Constitution and Bylaws approved January 2008.
---
COOS History
The Central Ontario Orchid Society was founded on May 26, 1985 when nine orchid growers met at a home in Kitchener to organize a local orchid society. Of the nine, only one could claim to be an experienced orchid grower, yet all were anxious to learn all about orchids. A name for the society was chosen. An executive was elected. Plans were made to draw up a constitution, publish a newsletter and find a meeting site, all to be done by September. The first Society meeting took place at the Kitchener Public Library and was attended by 17 amateur orchid growers.
We first exhibited that year at the Niagara show and had our own first show on April 25, 26 1986 at the Stone Road Mall in Guelph. At the end of that first year our membership had reached 54. In the following year we became an AOS affiliated society and achieved a membership of 98.